The number one reason most people want to switch jobs in the pandemic economy is, you guessed it, money.
The "big resignation," as it's been dubbed, is bad news for employers who have to pony up higher wages and bonuses or risk losing their staff to competitors. But it's great news for anyone looking to make a career change because every outbound employee leaves a job vacancy in their wake. And that job could be better, and pay better, than the one you have.
Three options for a mid-pandemic career change
Deciding to look for a job while you still have one gives you one big advantage: You're on your own schedule so you can stay put until you find the perfect next gig. Make that two advantages. You're still collecting a paycheque while you look. Here are three ways to approach your next career move.
1. Move within your current company
Assuming there are chances for career development and advancement, you could look for your next job within the company you work for now. Consider the advantages.
You know the cast of players.
You know the industry.
You might be eligible for more vacation time soon based on tenure.
Even if you find your current situation intolerable (we're probably talking about your boss here), there may be openings in different departments or locations. If you're flexible and the thought of working somewhere else is appealing, pop onto your current company's job board before you make the leap to another job.
2. Move to a competitor in the same industry
If it's true that a third of workers plan to deep-six their current employer, there will likely be job openings in your industry. Your experience will move you way up the list for hiring managers because you won't need training.
A competing company might even have more openings in senior positions that let you take on a bigger role and earn more money. Moving within your current industry makes a lot of sense when:
The economy favours your personal skills (builder of solar panels, for example).
Long-term prospects are favourable for all the firms in your industry.
Your experience is valued and relevant to the future success of your new employer.
Of course, if you signed a "non-compete" agreement with your current employer, you might have to wait a while before you can work for a competitor and you may be restricted from sharing trade secrets.
3. Break into something totally new
This is not your first rodeo and you have harnessed some serious skills. Many of them will be transferable from one industry to the next. In fact, an employer may be looking for fresh perspectives and new ideas from people with diverse backgrounds.
You may have to take one step back in order to go three steps forward in a new line of work but you likely won't be starting at the bottom.
There are many brand-new careers in the fields of IT and finance that offer training and the good potential for upward mobility. And there are startup companies in every sector of the economy that need people with real-world experience to help them bring their ideas to life.
Go where the growth is
Jobs in e-commerce, health-care and digital content freelancing are seeing the fastest growth in the U.K., according to LinkedIn's list of roles on the rise for 2021. You can find their full list of the fastest-growing careers here.
For the fastest-growing sectors of the economy according to Indeed, growth was nothing short of explosive.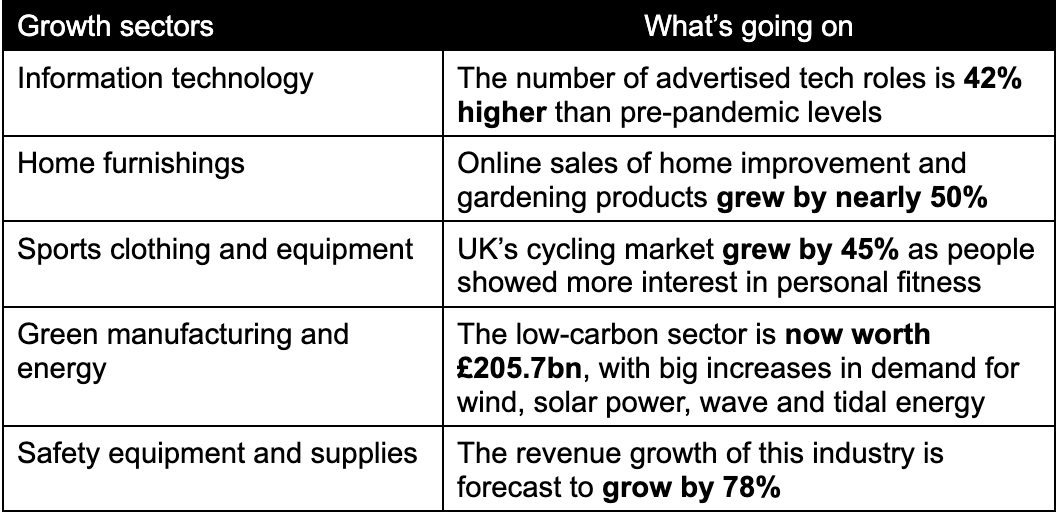 Should you stay or should you go now?
Whether you move within your current company, jump to a competitor, or launch a new career, it's important to do what you love, find a way to make a difference in the world, and be happy with your career choices.