Tesco Bank: Clubcard Credit Card with Low APR
| | |
| --- | --- |
| Provider: | Tesco Bank |
| Card Name: | Clubcard Credit Card with Low APR |
| Networks available: | |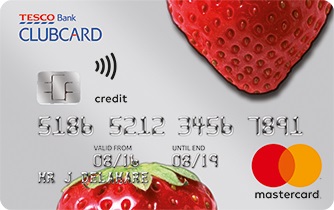 Rates & Fees
Introductory offers
Intro balance transfer rate
0%
Intro balance transfer period
0% for 1 months
Intro balance transfer fee
0%
Intro purchase rate
0%
Intro purchase period
0% for 1 months
Other rates and fees
Representative APR
5.9% APR (Representative)
Interest free period
51 days
Interest charged from
date of trans debit
Annual fee
£0
Interest on cash withdrawals
24.9%
Charges and payments
Charge on overseas spending
2.75%
Charge on cash withdrawals
3% of withdrawal (minimum £3)
Charge for going over limit
£12
Charge for late payment
£12
Charge for returned payment
£12
Rewards & Benefits
Spending Rewards
Cashback Rewards
-
Airmiles
-
Points Scheme
Clubcard Points: - 5 Clubcard points for every £4 you spend at Tesco stores - 5 Clubcard points for every £4 you spend on Tesco fuel (excludes Esso Fuel) - 1 Clubcard point for every £8 you spend everywhere else Clubcard points are redeemed in the form of rewards sent to the cardholder as vouchers to be used in store.
Shopping Rewards
-
Charity Rewards
-
Other Incentives
Buy now pay Later 0% for 6 months on buy now pay later transactions, rates vary. Tesco Travel Money No cash advance fee and no handling fee on Tesco Travel Money. 0% commission on non-sterling travellers cheques also offered. Free Overseas Emergency Assistance If the card is lost or stolen whilst the cardholder is abroad, Tesco will ensure that they get a free replacement as soon as possible, (normally within 48 hours). Tesco will also provide a cash advance to tide the cardholder over.
Cardholder benefits
0% on overseas purchases
Travel insurance
-
Warranty cover
-
Purchase protection
-
Internet fraud protection
Tesco provide comprehensive internet fraud protection.
Opening and managing the account
Application information
Minimum age
18 years
Minimum income
£5,000 per annum
Credit rating
Prime
Existing customers only
-
Additional account required
-
Apply online
Maximum credit limit
£0
Account services
Manage online
Cheque book
Product data provided by Defaqto